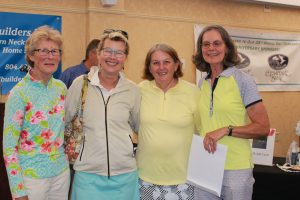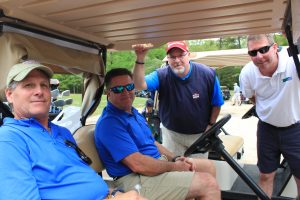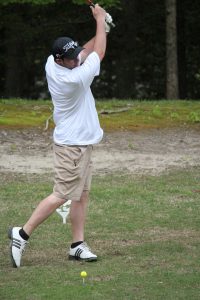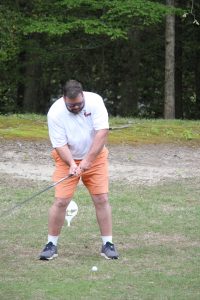 As is befitting a landmark anniversary, Rappahannock Westminster-Canterbury Foundation's 35th Annual Open Golf Tournament was momentous in many ways. The April 25th event, benefiting the RWC Fellowship Fund, was held at the Golden Eagle Golf Club and sold out, raising more money than in years past.
"Thirty-five teams (140 golfers) enjoyed a beautiful day at The Golden Eagle and benefitted an important part of our community at the same time," said Don A. Nelson, head golf professional. "We are delighted to host the golf tournament right across the street from our neighbors at RWC."
RWC President Stuart Bunting expressed his appreciation for the overwhelming community and statewide support from participants, sponsors and prize donors.
"This tournament really goes a long way toward helping us achieve our Foundation's mission," Bunting said. "Since 1986, the Fellowship Fund has provided more than $6 million in grants to ensure that RWC residents can enjoy a lifestyle of dignity and comfort at RWC's Total LifeCare Retirement Community."
After the tournament, participants enjoyed a reception and awards ceremony at Rappahannock Westminster-Canterbury.
This year's tournament was presented by Coastal Builders Inc., Connemara Corporation and Haywood Floor Covering Inc.
35th Anniversary Sponsors were Chesapeake Bank and Chesapeake Wealth Management.
Gold Sponsors were Chesapeake Land Works LLC and Eagle Fire.
Silver Sponsors included Bay Port Painting, Carter Machinery, David & Katie Dew – IsaBell K. Horsley Real Estate, Elbourn Electrical Services, Eugene Duffer Foundation and Trust, Lamberth Building Supply, Lowe Brockenbrough & Co., Marsh & McLennan and NWP Energy Co.
Team Sponsors included Earth Resources, E.G. Fleet, Ellie Davis, Jerry Hamm, Kent McCraney, Tommy Davis, Pete Epps, John Hess, Doug Monroe, Bill Thomas, Bucky Gibson, Bay Restoration, George Chagalis, Charles Craig, Justin Burke and Bay Design Group.
Hole sponsors were SIA Group, Denise Munns, Jane Higgins, Noblett Appliance, Commonwealth Painting, Paragon Financial Services, Dehnert, Clarke & Co., Barbour Printing, Rappahannock Record, Guernsey Tingle, Jerry Hamm, Perma Treat, Rhudy & Co., RWC Resident's Association, Sam Rust Seafood and Union Bank & Trust.
Patrons were Maxine and Fred Luxton and RWC Residents' Association.
Special thanks to RWC staff and volunteers, RWC Dining Services, RWC Maintenance Dept., RWC resident volunteers, Kent McCraney and Pete Epps